TURMERIC: THE SPICE OF LIFE – MEDICINAL PLANT, SUPERFOOD STAR, ANTI-AGING PROFESSIONAL AND TIGHTENING SECRET WEAPON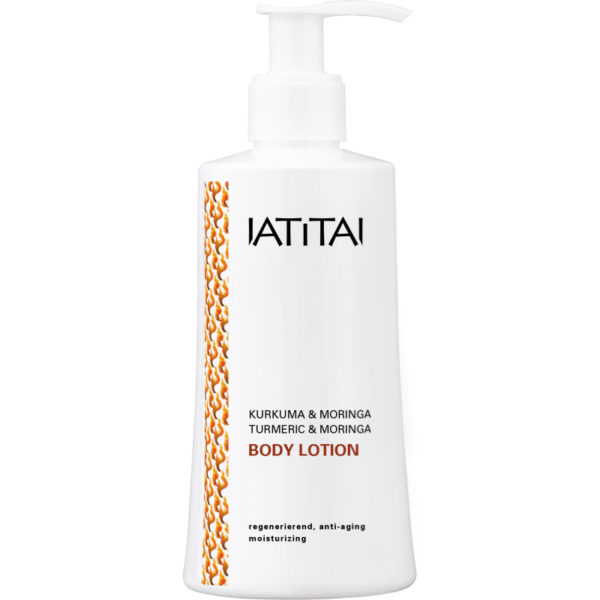 DETOX and BODY-BEAUTY-BALANCE with IATITAI: Fresh handmade body lotion with turmeric & moringa – an anti aging weapon newly discovered for the western world in a super food body lotion. Turmeric supports muscle regeneration, promotes fat metabolism and has a strong anti-inflammatory and antioxidant effect. In Asia the root has been known for thousands of years. Turmeric or "Kami Chun" belongs to the ginger family. The yellow tuber plays a very important role in the traditional Asian healing arts and is known for its healing, cleansing and energizing effect on many diseases. It is therefore used both in medicine and cosmetics.
The active ingredient curcumin inhibits inflammation, intercepts cell-damaging and free radicals and is a powerful, natural anti-aging agent that stimulates the metabolism. It also stimulates collagen formation. It has a positive effect on the connective tissue, reduces flakes and stimulates the tightening of the skin. Turmeric promotes blood circulation and has a decongestant, antibacterial and antiviral effect. Due to its anti-inflammatory properties it is also perfect for sensitive and irritated skin.
In this body lotion turmeric is combined with valuable evening primrose oil – for the protective function of the skin, rice bran oil – for smooth skin, shea butter – for supple skin and moringa oil.
Moringa oil contains over 100 different minerals and vitamins, which in combination form a real power package. It has a large amount of unsaturated fatty acids such as palmitic, stearic, acharic and linoleic acids, which also give the oil its yellowish colour and nutty aroma. Its high content of omega-3 and omega-6 fatty acids is hardly ever found in nature. Furthermore, Moringa oil is a real vitamin bomb because it contains, among other things, the important vitamins D, E and K. Trace elements such as copper and zinc and numerous secondary plant substances such as carotene, lutein and chlorophyll are also abundant in it.
IATITAI fresh handmade BODY LOTION with turmeric & moringa; 250ml, RRP: 29,90€
The traditional Thai medicine was mainly used by Buddhist monks and is based primarily on herbal medicine. For the inhabitants of Southeast Asia, the use of medicinal plants is the oldest form of treatment and the basis of natural medicine. IATITAI has brought these traditional recipes into the present day and developed natural cosmetics according to the latest scientific standards.
For many centuries, Thais have found the basis for natural healing and body care products in the diversity of native tropical plants and herbs. The traditional medicine of Thailand has its origin in the thousands of years old experience of the Buddhist monks and their herbal medicine: spirituality, massages, herbal therapies and a healthy diet were used to cure diseases and to balance health and physical well-being.
IATITAI has rediscovered these hidden treasures and developed an extraordinary range of authentic body care products. Ingredients that have never been seen before in western cosmetics. IATITAI's holistic natural cosmetics are modern blends of these classic and millennia-old recipes from monasteries, which are today lovingly handmade with the finest raw materials from the nature of Thailand.
About IATITAI:
The Thai cosmetics company IATITAI uses natural and local ingredients for the production of its natural cosmetics and body care products. In Chiang Mai the recipes are prepared by hand. Behind the philosophy of IATITAI is the holistic approach to Thai healing. The Buddhist monks and the inhabitants of the small villages around the Buddhist temples have passed on their knowledge of herbal medicine over generations. IATITAI has reinterpreted these millennia-old recipes. IATITAI believes in the power of nature – with all its freshness, and without compromise.
IATITAI is available in Germany at www.flaconi.de, in Austria at www.flaconi.at and from March 2020 also with its own shop at www.iatitia.de
Press contact:
McLean Communications
Ilona Marten-McLean                                                               +49-172-8121351
Schulstr. 21                                                                                   +49-89-127 11 484
82166 Gräfelfing                                                                        info@mcl-communications.com